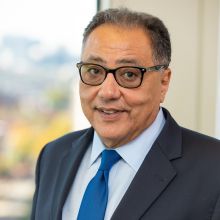 Hafez Ghanem
Vicepresidente, África, Banco Mundial
Fecha de intervención:
Hafez Ghanem, an Egyptian and French national, is the Vice President of the World Bank for Africa since July 1, 2018. A development expert with over 30 years of experience, Dr. Ghanem leads an active regional portfolio consisting of over 600 projects totaling more than $71 billion.
Under his leadership, the World Bank supports inclusive growth and poverty reduction by financing projects that boost human capital, support private sector development, raise agricultural productivity, improve access to infrastructure, build resilience to climate change, and promote regional integration. Intensifying assistance for fragile and conflict-affected states, promoting gender equality, and providing economic opportunities for youth are core to his vision for the Africa Region.
Prior to his appointment as Vice President for Africa, Dr. Ghanem served as Vice President of the World Bank for the Middle East and North Africa from 2015 to 2018, overseeing the World Bank's engagement with 20 countries. Leading up to this, he was a Senior Fellow at the Brookings Institution in the Global Economy and Development program leading the Arab economies project, focused on the impact of political transition on Arab economic development.
Between 2007 and 2012, he served as the Assistant Director-General at the Food and Agriculture Organization of the United Nations (FAO). He was responsible for the Economic and Social Development Department and the FAO's analytical work on agricultural economics and food security, trade and markets, gender and equity, and statistics. In this role, he and his counterpart at the OECD coordinated the preparation of the International Organizations' recommendations to the 2011 G20 meeting on how to respond to the global food crisis.  He also led the reforms of the Committee on World Food Security to make it more inclusive and responsive to country needs.
Dr. Ghanem began his career at the World Bank in 1983 as a Young Professional. Over the span of 24 years (1983-2007), he worked on Bank operations and initiatives in over 20 countries in Africa, Europe and Central Asia, Middle East and North Africa, and Southeast Asia. His previous positions at the World Bank include: Country Director for Nigeria where he led a multinational team of more than 100 professionals, managing the Bank's loan portfolio of some $1.5 billion; Country Director for Madagascar, Comoros, Mauritius and Seychelles; and Sector Leader for Public Economics and Trade Policy in the Europe and Central Asia Region.
He has many publications in professional journals and was a member of the core team that produced the World Bank's 1995 World Development Report.
He holds a bachelor's and master's degree in Economics from the American University in Cairo and a PhD in Economics from the University of California, Davis. He is fluent in Arabic, English and French.
Leer más
Manténgase en contacto
Eventos pasados con Hafez Ghanem