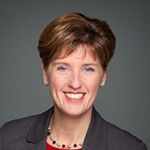 Marie-Claude Bibeau
Ministra de Desarrollo Internacional y la Francofonía de Canadá
Fecha de intervención:
The Honorable Marie-Claude Bibeau was elected as the Member of Parliament for Compton–Stanstead in October 2015, and a few weeks later, she was appointed Minister of International Development and La Francophonie by Prime Minister Justin Trudeau. Before entering politics, Minister Bibeau began her career at the former Canadian International Development Agency. She went on postings to Morocco and Benin. In her capacity as Minister of International Development and La Francophonie, Minister Bibeau has a mandate to refocus Canada's international assistance to help the poorest and most vulnerable people, and support fragile states. In May 2016 she launched the International Assistance Review to determine how best to fulfill her mandate. This review calls for consultations with Canadian and international partners, as well as civil society and interested individuals, particularly women and youth, both in Canada and in developing countries.
Minister Bibeau is calling for actions and programs geared to the education and empowerment of women and girls, whose rights she defends unfailingly. She places women and girls among the top of her political action priorities. The Minister currently has a seat in the High-Level Advisory Group for Every Woman Every Child, an initiative put in place by the UN Secretary-General. She also heads up Canada's strategy for implementing the 2030 Agenda for Sustainable Development objectives both here at home and around the world. Minister Bibeau ardently defends the idea of linking economic growth with the fight against climate change. With this in mind, she plans to help the most vulnerable communities become more resilient through a green and sustainable economy. She is placing considerable attention on providing access to drinking water and the responsible management of this precious resource.
Leer más
Eventos pasados con Marie-Claude Bibeau