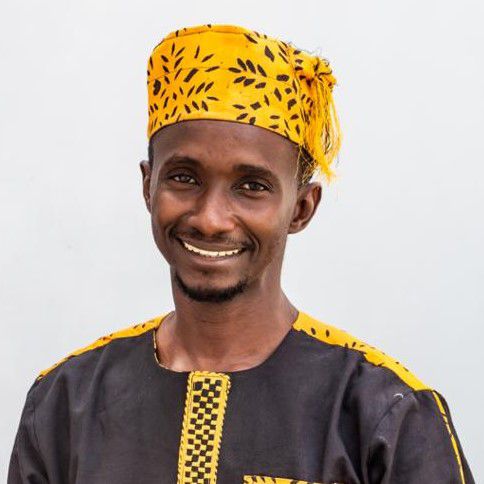 Petit Tonton
Artista
Fecha de intervención:
Born in Faranah, in the Republic of Guinea, Moussa Doumbouya, known as Petit Tonton, turned to the theater in 2003 by chance perhaps, or a stroke of luck, since his studies in accounting and management did not predispose him to an artistic profession.
Moussa made his debut as an actor in the company Les Sardines de Conakry, then Laborato'Arts, la Muse, before creating his own artistic and cultural association KOUMAKAN. As both an actor and a great storyteller, he first made his mark in the Guinean theater by his generosity, his availability, his curiosity, his talent and his discipline. He won the silver medal at the Eighth Francophone Games in the category of Stories and Storytellers, was the recipient of a JAWARD (award ceremony for young people who are making a difference in Guinea) in the Culture category and founded the Café des conteurs (storytelling café) and the Grande Nuit du Conte-Guinée, a space for meeting and sharing that seeks to recreate the traditional setting of storytelling in the village square.
His professionalism and discipline have led him to participate in major projects such as Tagad'art in France, in the circus world, capped by a European tour, the Labo ELAN 2018 (Récrâtrales), the International Project Incubator hosted by the International Commission of Francophone Theater (Switzerland), the Grande Parole Invite (storytelling festival) in Dakar, the Grande Nuit du Conte Ragandé (Burkina Faso), Contes d'un Soir (evening storytelling festival) sponsored by the OIF (Abidjan), just to name a few.
He also directs the shows of the great Guinean singer Soul Bang's (recipient of the RFI music discovery prize). Petit Tonton is an outstanding entertainer who performs as an actor, storyteller and director. He is also active in humanitarian projects; through his storytelling, he brings joy to the children in Conakry's orphanages, as well as to sick and hospitalized children.
Leer más
Eventos pasados con Petit Tonton