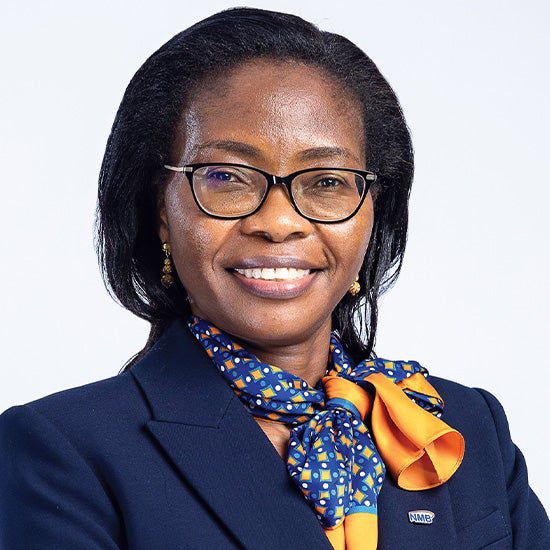 Ruth Zaipuna
Directora ejecutiva, NMB Bank Plc
Fecha de intervención:
Ruth Zaipuna (ACPA (T)) is the Chief Executive Officer (CEO) of NMB Bank Plc in Tanzania. As the incumbent CEO, Ruth leads a team of over 3,600 employees dedicated to advancing Tanzania's Social Economic Development Agenda by making financial lives better for people, companies of every size, and institutional investors across Tanzania.
Ruth has more than two decades of experience in leadership roles in Banking and Audit assurance and has a proven track record in initiating and leading change, driving results, strengthening operational risk and compliance, and innovating amid a rapidly evolving digital landscape. In recognition for her transformative leadership in spearheading the Bank and for playing a pivotal role in uplifting the banking industry in Tanzania generally, she has been named as the African Banking CEO of the Year (Tanzania) by the Africa Bank 4.0 Awards 2022 and 2023. Ruth was also awarded the prestigious African Business Leadership Commendation Award 2022, by the African Leadership Magazine.
Previously Ruth served as the Chief Financial Officer (CFO) at NMB Bank Plc from June 2018 to October 2019. During her tenure as CFO, Ruth transformed the Finance Department into a 'fit for purpose', value generating function that meets the commercial demands of new business models.
Before joining NMB Bank in 2018, Ruth was the Finance Business Partner Lead for East Africa, Executive Director, and CFO at Standard Chartered Bank, and worked for PricewaterhouseCoopers (PwC) Tanzania, in the audit assurance practice for about a decade.
Ruth is an Independent Non-Executive Director at Tanzania Portland Cement Company Limited (TPCC) and a Board member of Tanzania Ports Authority (TPA) and Tanzania Petroleum Development Corporation (TPDC).
Leer más
Eventos pasados con Ruth Zaipuna