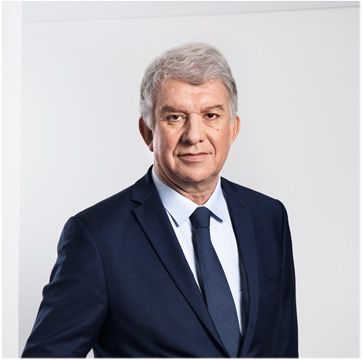 Yves Perrier
Presidente, Junta Directiva, Amundi
Fecha de intervención:
Yves Perrier has overseen asset management operations at Crédit Agricole Group for the past 14 years. In 2010, he was behind the creation of Amundi, merging the activities of Credit Agricole Asset Management and Société Générale Asset Management.
Under his leadership, Amundi saw outstanding development achieved through organic growth and successful external growth operations, in particular the acquisition of Pioneer in 2017. With more than €2 trillion in assets under management, which have virtually doubled since the company's IPO in 2015, Amundi is the leading asset management firm in Europe and one of the top 10 in the world. This business growth was accompanied by strong earnings growth, which have risen 2.5-fold since Amundi was created.
The bulk of Amundi's expansion took place internationally. In Europe, Amundi is No. 1 in France, No. 2 in Austria and the Czech Republic, No. 3 in Italy and is now in the Top 5 in Spain following the acquisition of Sabadell AM. In Asia, the Group has more than €300bn in assets under management and has recently extended its reach into China through the creation of a subsidiary with Bank of China. It is the first Chinese joint venture with a foreign player as its majority shareholder.
Under the leadership of Yves Perrier, the firm has become a recognised leader in ESG, which was included as one of the Group's founding principles when it was created in 2010. The Group has applied ESG criteria to all its open-ended funds and has multiplied its efforts in favour of energy transition and social inclusion, in particular through partnerships with IFC, the EIB and the Asian Infrastructure Investment Bank.
Amundi was listed on the Paris stock market in 2015 and, at the time, it was the largest IPO on the French market since the 2009 financial crisis. Its market cap has almost doubled to reach more than €13bn today, the number 1 market capitalisation in Europe and in the Top 5 worldwide amongst listed asset managers1.
In addition, Yves Perrier has been serving as a member of the Crédit Agricole S.A. Executive Committee since 2003 and as Deputy CEO of Crédit Agricole S.A. since 2015. In these roles, he supervised the Savings and Real Estate division and directed Crédit Agricole Group's solidarity initiatives
* * *
Yves Perrier started his career in audit and consulting. He joined Société Générale in 1987, where he was Chief Financial Officer (1995-1999) and then Crédit Lyonnais in 1999, where he was a member of the Executive Committee in charge of Finance, Risk and General Inspection (1999-2003). In 2003, he steers the creation of CALYON (now CACIB by merging Indosuez with the Investment Banking business of Crédit Lyonnais. He was its Deputy Chief Executive Officer until 2007.
* * *
Yves Perrier was Chairman of the French Asset Management Association (AFG) from 2015 to 2017 and currently he is its Honorary Chairman. He is also Vice-Chairman of Paris Europlace and, since 2020, Administrator-Treasurer of the Fondation de France.
He has been singled out for numerous awards, on an international level, including Funds Europe's European Asset Management Personality of the Year in 2010 and the European Outstanding Achievement award in 2018. He was also voted CEO of the Year by Financial News in 2017 and by Global Investor Group in 2019.
Yves Perrier is a graduate of ESSEC and is a Certified Public Accountant (CPA).
Yves Perrier is an Officer of the French Legion of Honour and an Officer of the French National Order of Merit.
Yves Perrier has authored several publications. Recently he collaborated with Jean Dominique Senard to write "Responsible Capitalism: An Opportunity for Europe", published by Institut Montaigne and Comité Médicis.
Leer más
Eventos pasados con Yves Perrier