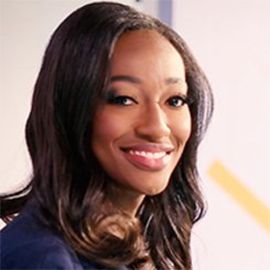 Rachelle Akuffo
Presentadora, Yahoo Finance
Fecha de intervención:
Rachelle Akuffo is an anchor at Yahoo Finance, covering the latest market-moving news, closing bell action and financial news.
 
This British-Ghanaian journalist is a former award-winning news anchor for CGTN America and host of its flagship magazine business show, Global Business America.
 
Ms. Akuffo began her career as a radio journalist in England and went on to work as an anchor and reporter for Swiss bank Dukascopy, covering FOREX news and key global economic calendar events. She was also a correspondent for the millennial-focused digital news service, OneMinuteNews. Akuffo has received several accolades including a 2015 Clarion Award for her reporting on the struggles of Latina entrepreneurs and a 2018 Gracie Award for 'Forgotten Mothers' - focusing on the dramatic rise of maternal deaths in the US. 
Ms. Akuffo is a graduate of Howard University in Washington, D.C. and of London's Brunel University.
Leer más
Manténgase en contacto
Eventos pasados con Rachelle Akuffo